We've culled 8 bathroom renovation ideas (on a budget) that will add luxury to one of the most used rooms in the home - the bathroom. Our bathroom hacks will get you motivated on your next bathroom remodel, and will sure to impress your friends!
It's easier and more affordable than you may think to add luxury touches to your bathroom. A luxurious bathroom can give your home a stunning focal point. If you ever want to move in the future, it can also help to sell your property as bathroom remodels are a great return on investment.
Great bathroom remodel ideas save you money, add style and luxury to your bathroom, and start your day off on the right foot. So let's get started! Even implementing one of these ideas will make a world of difference in the bathroom!
Bathroom Hack #1 - Timeless Tile
Neutral styles tend to appeal to a broad range of people, and provide better return on investment for a bathroom renovation. The more expensive tiles are typically very taste-specific, so always choose basic and inexpensive. You can almost never go wrong with subway tiles as your base, then add accents, decor, and color. See Bathroom Hack #4 for how to add pops of color, and Bathroom Hack #2 for updating hardware, which is also a creative way to add luxury to the bathroom.
Bathroom Hack #2 - Hardware Updates
Old materials instantly date your bathroom. Take care of this easy bathroom DIY update, by purchasing new drawer pulls, new doorknobs, and new towel bars. Shower curtains and shower hooks can also transform a bathroom. When choosing a curtain you can bring in luxury with textured fabric shower curtain, or a colorful, patterned curtain against the neutral elements definitely adds some style to the room. All of this is quick, easy, and inexpensive too! Installing should be a piece of cake on your own.
Bathroom Hack #3 - Make Bathroom Clutter Free
Clutter does not equate to luxury. Incorporate some stylish (and hidden) storage into your bathroom to create a space that's tidy and keeps personal belongings almost invisible. Vanity units are practical storage solution getting those beauty products of the sink counter.
For the tub and shower area, no need to add shower caddies if you can install a Dük Liner shower niche. If you are going down to the studs in the shower or bathtub area, a recessed wall niche is the perfect solution to add space you never imagined was there. With 4 shapes/sizes to choose from, your clutter-free dream shower or bath can become a reality.
Bathroom Hack #4 - Add Color
If your bathroom is wee short on space, that doesn't mean it can't pack a punch with some color and patterns. Even one wall in a stylish wallpaper can add that extra "pop" you are looking for (or the shower curtain hack can work here too). Try a simple graphic pattern—such as a chevron—and the wall is now transformed into your accent piece. Or, installing the Dük Liner custom wall niche also adds additional places you can accent with colorful tiles - ceramic, porcelain, metals…the possibilities are endless!
If you are going to paint the bathroom, lighter shades make it easier to see while you're getting ready for the day (lighter colors also trick the eye into thinking the space is bigger). If you plan to paint the bathroom ceiling, always choose a slightly lighter color than the wall color. You can easily mix the primary wall color with white paint, and Ta-da! You now have ceiling paint! (first photo: @house.becomes.home)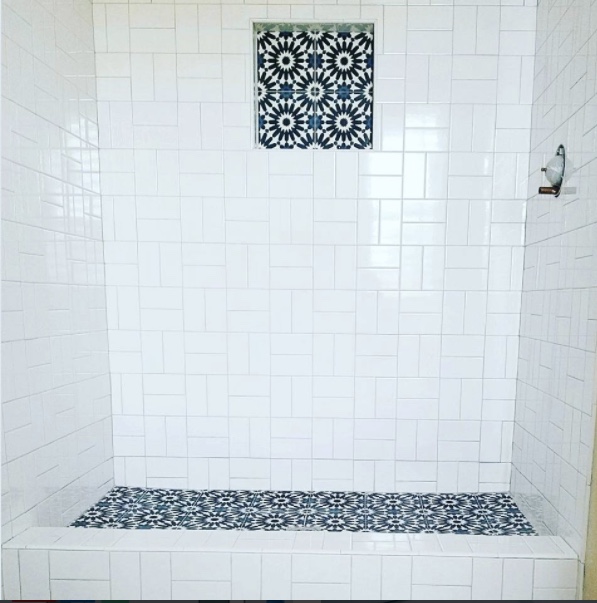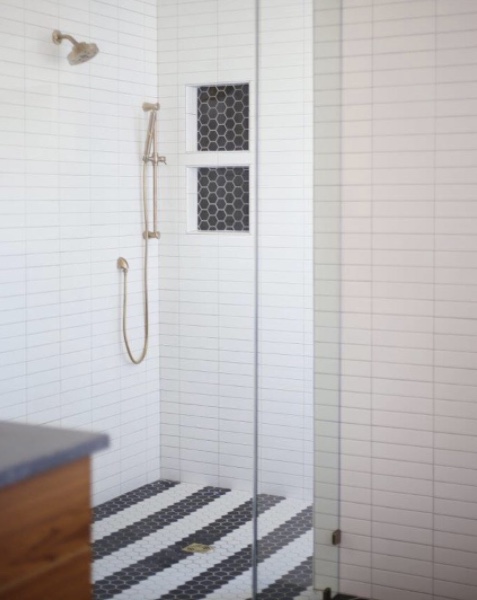 Bathroom Hack #5 - Upgrade Lighting Fixtures
Let there be light! There are many options for bathroom lighting. A fabulous way to bring luxury into the bathroom is to install a stunning chandelier. Large or small, a chandelier will have huge impact on the space.
Recessed shelving is another place to fit an LED strip light, which will create subtle illumination. A great addition is also a damp-rated waterproof recessed light in the shower and tub.
If you are staying more traditional with your lighting fixtures, swap out those fluorescent lightbulbs in the bathroom. Halogen or xenon bulbs are best near the vanity (on either side of the mirror) or directly over the sink counter..
Bathroom Hack #6 - Mirrors Make A Difference
Mirrors can make the bathroom appear larger. Hang a large, fun-shaped mirror over the vanity to add some decorative punch. Fitting a large ornate mirror with an attractive frame instead of a square or rectangular one, can instantly stylize your bathroom. For a tiny master bath, try a recessed mirror. There are plenty of affordable options at your local home improvement store for you to get creative here!
Illuminated mirrors are also perfect for adding that luxury touch. They serve a dual purpose - as a functional makeup or shaving light during the day, then dim down for a nighttime "mood lighting" effect.
Bathroom Hack #7 - Install a New Sink
Your sink sees a lot of use. Get the most bang for your buck with a new contemporary sink. You can pick one of these up at your local home improvement store or order online. However, if the sink is adhered to the counter surface (such as an overmount or undercount) the counter top will also have to go, which can get expensive. If that's not in budget, replace separate hot and cold faucets with a sleek single-handle faucet for a touch of luxury.
Bathroom Hack #8 - Install a Freestanding Bathtub
Last but not least, if do have some room in your budget (and space in the bathroom) a freestanding bathtub adds value to the home and is a stunning focal point of the bathroom. Traditional to contemporary, freestanding baths are available in a wide range of styles and sizes to suit any bathroom.
Making any size bathroom appear practical, tidy, and even luxurious and stylish does not have to be a daunting task. There is no need to overhaul the space! Try our bathroom hacks and send us pictures of your luxurious DIY bathroom remodel!
Visit our products page for Dük Liner specs or find a Dük Liner retailer.